Article summary:
Hong Kong's ambition to be a world-class I&T hub backed by bold government R&D commitment and talent drive to ensure innovations can thrive as current pioneers and innovators in biotechnology, fintech and other sectors are showing the way with their ground-breaking discoveries.
For pioneers looking to bring ground-breaking innovations to life, there are two items that top the checklist of must-haves: one, a strong team of talented people and two, a place with research and development (R&D) capabilities.
That is why the Hong Kong SAR Government announced in 2017 the target of doubling R&D spending to 1.5% of its GDP within five year — an annual injection of US$5.8 billion (HK$45 billion) — to elevate the city's innovation and technology potential.
Announced in 2017, this significant signal of intent by Hong Kong and its government is putting innovation and technology at the core of its vision for the city. This investment over five years puts Hong Kong close to the R&D commitments of advanced nations like the UK and Canada— a bold statement that seeks to inspire and fuel the missions of researchers and scientists in this region.
It is this ambition that drew Hugh Chow, a 25-year Silicon Valley tech veteran to return to his birthplace and become CEO at applied research organisation ASTRI in 2017. Though he had stepped down from his role to move on to other opportunities recently, Chow felt his ASTRI CEO offer was a calling to come home and help elevate the great R&D potential that he knew was rich in Hong Kong.
Chow saw an opportunity to combine opportunity with potential, as Hong Kong is linked with Southern China through China's Greater Bay Area (GBA) initiative, which deepens regional cooperation. A megalopolis with a total population of over 72 million and a combined GDP of US$1.7 trillion, the GBA has an economy that rivals that of Korea. "With that size of economy, and all the investment into tech, you cannot find another ecosystem as vibrant and with as much potential as Hong Kong right now," he stated.
Chow also added that in addition to innovation and technology talent, an ideal ecosystem should also have a financial centre and manufacturing capabilities, which just happen to be exactly what Hong Kong and the GBA provide. The tech veteran summed it up, "In Hong Kong and the GBA, you can find anything as an entrepreneur."
World-class talent in abundance
This combination of opportunity and underlying R&D potential puts Hong Kong on the radar for top talent.
 "In Hong Kong and the GBA, you can find anything as an entrepreneur."
Hong Kong features top-ranking universities, with four in the world's top 50. One example of the talent that has come through these institutions is Professor Dennis Lo, recently crowned the co-winner of the 2021 Breakthrough Prize in Life Sciences.
Known as the "Oscars of Science", the Breakthrough Prize is one of the science community's most coveted awards and the richest award of its kind. It is supported and funded by global innovators, such as Facebook founder Mark Zuckerberg and Google's Sergey Brin.
Professor Lo, who teaches in the Department of Chemical Pathology at The Chinese University of Hong Kong, made his name through the discovery of foetal DNA in a mother's blood, which led to developing non-invasive prenatal tests for Downs Syndrome and other genetic diseases. He is also the Director of the Li Ka Shing Institute of Health Sciences, the Associate Dean (Research) and the Chairman of the Department of Chemical Pathology of the Faculty of Medicine at CUHK.
The HK10X pioneer cited factors like Hong Kong's multiple sources of talent, improving venture capital funding, and ancillary factors such as the legal system, that make the city the ideal ecosystem in which to thrive.
Professor Lo is also a strong believer in the collaboration potential in Hong Kong which take innovations from bench to bedside, facilitating the transformation of scientific discoveries into commercial products. The universities, for example, serve as incubators for new ideas, and entities such as Hong Kong Science Park are creating an "oasis of science" for budding and established pioneers, he noted.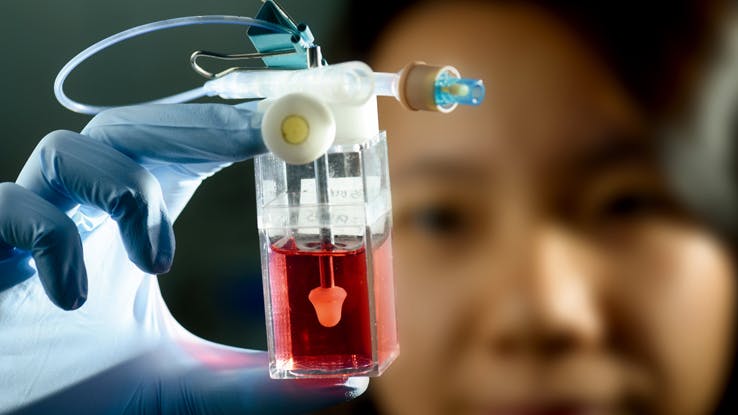 R&D impact in industry
If there is anything a pioneer wants to see, it is their innovations making an impact on the world. And Dr Duncan Wong knows exactly how this feels, when he saw his work making waves in the finance industry.
Dr Wong is another HK10X pioneer who, like Chow from ASTRI, spent a lengthy period of time in the US before returning to Hong Kong. After researching cryptography in Boston, Dr Wong was also enticed into joining ASTRI.
He described his time at the Hong Kong applied research organisation as life changing —his work at ASTRI included the Hong Kong Monetary Authority's first whitepaper on distributed ledger technology, which opened eyes to the transformative power of blockchain applications in finance.
Today, Dr Wong is the founder and CEO of blockchain technology firm CryptoBLK. His expertise in blockchain led his firm to be the platform provider to a ground-breaking trade finance platform, Contour — the world's first open, decentralized trade finance network.
"Blockchain technology is evolving fast here in Hong Kong with a growing supply of technology and blockchain talent, and we are connected to the ideal ecosystem through the Hong Kong Science and Technology Park."
These are just a few examples of the innovators who emerged in Hong Kong as a sign of the city's R&D acceleration. ASTRI today features over 600 staff, with researchers making up almost 90% of that number. The Hong Kong Science Park houses over 1,000 technology companies and 15,000 workers, with 60% involved in R&D. As the city's top-ranking universities are pumping out many more R&D talents as well, the grass-roots talent drive has been further bolstered by the government's latest  2020-21 Budget which earmarked US$5.1 million (HK $40 million) to subsidise short-term internships for undergraduates and postgraduates taking STEM programmes in local universities.
Labs and Production Facilities offered by Hong Kong Science Park for R&D:
Biobank, pilot batch labs, drug safety and medical device testing facilities, designed for research specific to biomedical technologies

The Robotics Catalyst Centre 2.0 (RCC 2.0) with its two main laboratories:
FlexLab – a plug-and-play infrastructure that offers flexible space for users to conduct proof-of-concept trials in a working environment
FabLab – providing a wide range of tools, equipment and fabrication services for materials such as metal, plastic and electronics to assist users in prototyping and robotics development

 Small-scale production facilities for pilot-test manufacturing

GMP production facilities or sites at industrial estates for the construction of own GMP plants
Platforms for AI and biotech/healthtech innovations
With all the right ingredients in place, Hong Kong is set to become a platform on which innovators in the Artificial Intelligence (AI) and biotech/healthtech industries can shine.
Currently, there are more than 150 biotech and 100 Artificial Intelligence and Robotics (AIR) companies at Hong Kong Science Park, which are set to be boosted even further by the creation of two research clusters — Health@InnoHK and AIR@InnoHK.
As part of the government's mission to create core R&D capabilities on par with global leaders, these two clusters will house research laboratories set up by world renowned institutions and commercial entities to conduct collaborative research.
The Health@InnoHK cluster will have the potential to revolutionise healthcare and help address a broader set of social challenges such as aging population and environmental pollution. The AIR@InnoHK cluster includes development of applications that look to apply the full potential of AI, machine learning and robotics to real-world problems.
The ultimate goal is to explore how these technologies can transform the way businesses operate, and how they can change the way we live and engage with each other in every aspect of life. Global talent from science and technology can further their discoveries here and see how their pioneering research can make real world impact.
"Global talent from science and technology can further their discoveries here and see how their pioneering research can make real world impact."
Talent backed by funding
The access to a free flow of public and private capital is another thing that attracts R&D into the city.
The funding is reaching directly to academic institutions as well as to individuals with R&D ventures. Hong Kong's world-class capital markets are also being supplemented by measures that give a much-needed boost to the most common source of R&D – the universities.
Launched in 2014, the Technology Startup Support Scheme for Universities (TSSSU) provides funding to six universities to support their teams in starting technology businesses and commercialising their research and development (R&D) results. Up to US$1 million annual funding is provided to each of the six universities, while each startup can receive almost US$200,000 a year in support.
This is not counting the many other funding schemes that are available for grooming and recruiting talent, or getting research results to market.
With its combination of critical factors that serve to nurture the best R&D, Hong Kong is a truly stand-out choice for innovators looking to make an impact. A steady flow of talent locally and globally is supported by a growing network of standout facilities and infrastructure, access to capital, global IP protection standards and legal framework, making it a haven for a growing group of world-class pioneers. Will you be one of them?
At Hong Kong Science Park, the immersive innovation culture is supported by state-of-the-art flexible workspaces, world class R&D facilities and a genuine community of global research and technology talent. Read more examples of HK10X in action and see how Hong Kong's world-leading technology innovation, unique pioneering spirit and scale-up mentality inspire innovators around the world.