Article summary:
Brunei-born entrepreneur Brandon Ng,  Co-founder and CEO of Ampd Energy, a green energy storage company, shares his story of how his team found purpose, the ideal product-market fit and their first customers in Hong Kong--the home to pioneers with the HK10X spirit and the gateway from the Greater Bay Area (GBA) to Southeast Asia and global opportunities. 
Science Park startup, Ampd Energy has raised US$7 million to date. The company's energy storage systems now power over 50 construction projects for 18 of the largest construction companies and developers in Hong Kong, and the company is now entering the international market.
Q: Briefly describe your background and the beginnings of your company Ampd Energy:
Originally from Brunei, educated in London (where I met my wife) and trained as a chemical engineer. Being keen to stay in London, I turned to banking in the city as many do. But in 2012 I took a career break to study Mandarin in Beijing and met my co-founder and current CTO of Ampd Energy, Luca Valente. We had a dream back in 2013 to build fast sexy high-performance electric motorcycles that would be price competitive with gas motorcycles.
We soon realized that by going down this path, we weren't solving anything big or meaningful — and that's something all engineers want to do, which is to solve big meaningful problems — plus motorcycles was too niche and limited. So we began exploring a new business with energy storage as the focus and specifically based on lithium-ion batteries we were then developing for the motorcycles.
Q: Why move from Beijing, China to Hong Kong?
We questioned if our business was being built for the market in China, or for the global market. In the end we came to Hong Kong Science Park and Hong Kong as a natural gateway from China to the world. We would have access to all China's industrial capabilities and expertise, while we also having an international base for our business to scale to Southeast Asia and beyond.
Q: How did you come to set up at Hong Kong Science Park?
Soon after arriving in Hong Kong, we met InvestHK who connected us to the startup community and specifically brought us to Science Park. We learnt about the Science Park and its facilities through its incubation team. We saw the world-class shared labs, prototyping and fabrication facilities; the incubation and accelerator programmes and of course; the ecosystem of startups and corporates engaging in creation and innovation at the Science Park, and we very quickly realised this was the launchpad we needed.
"Science Park offers a great safe place for startups to take risks. The community here is very open to ideas, innovation and to trying things."
Q: How did the business evolve from these beginnings to today?
Most assume there's a fixed and defined process to giving birth to a startup. But there isn't. It's a long and winding process and when we arrived in Hong Kong we were still giving birth to the company, product, business model and the team. Our first product failed when we didn't fully validate our vision for backup energy supply for mission critical systems in hospitals, data centers and telecoms infrastructure. We didn't challenge our own assumptions enough, potentially out of stubbornness and our belief in our vision.
Q.     What changed and got you on the path to success?
We met a mentor who was absolutely instrumental in turning Ampd around. This person had started and scaled successful multiple businesses globally, and he came in and really shaped us up. He was brutal, he challenged all our assumptions and tested every decision we made. Entrepreneurs are a hard-headed bunch and we needed this to help us breakthrough. This helped find our purpose and current company vision which is creating an emission-free future for construction. We believe this is so important because the world is set to build 2.5 trillion square feet of buildings in the next 40 years: that's a new Paris every single week! If we do it the same way we have in the past, this will lead to massive environmental issues.
Q. Why construction?
Technologically, lithium-ion batteries are not new: our batteries are fundamentally, similar to those in an electric car, motorcycle or an everyday portable electronic device. What's new is the application and at Ampd, we obsessively focus on one thing only, that is specifically powering up urban development. We landed on this over a beer. We met a director from Gammon Construction after a startup pitch event and he challenged us to apply our energy storage concept to construction to fully substitute the noisy, polluting and expensive-to-operate diesel generators that burn a hazardous, flammable fuel. Fast forward to today, we now power up over 50 construction projects in Hong Kong and work with 18 of the largest construction companies and developers in the city. Expanding internationally is our next step.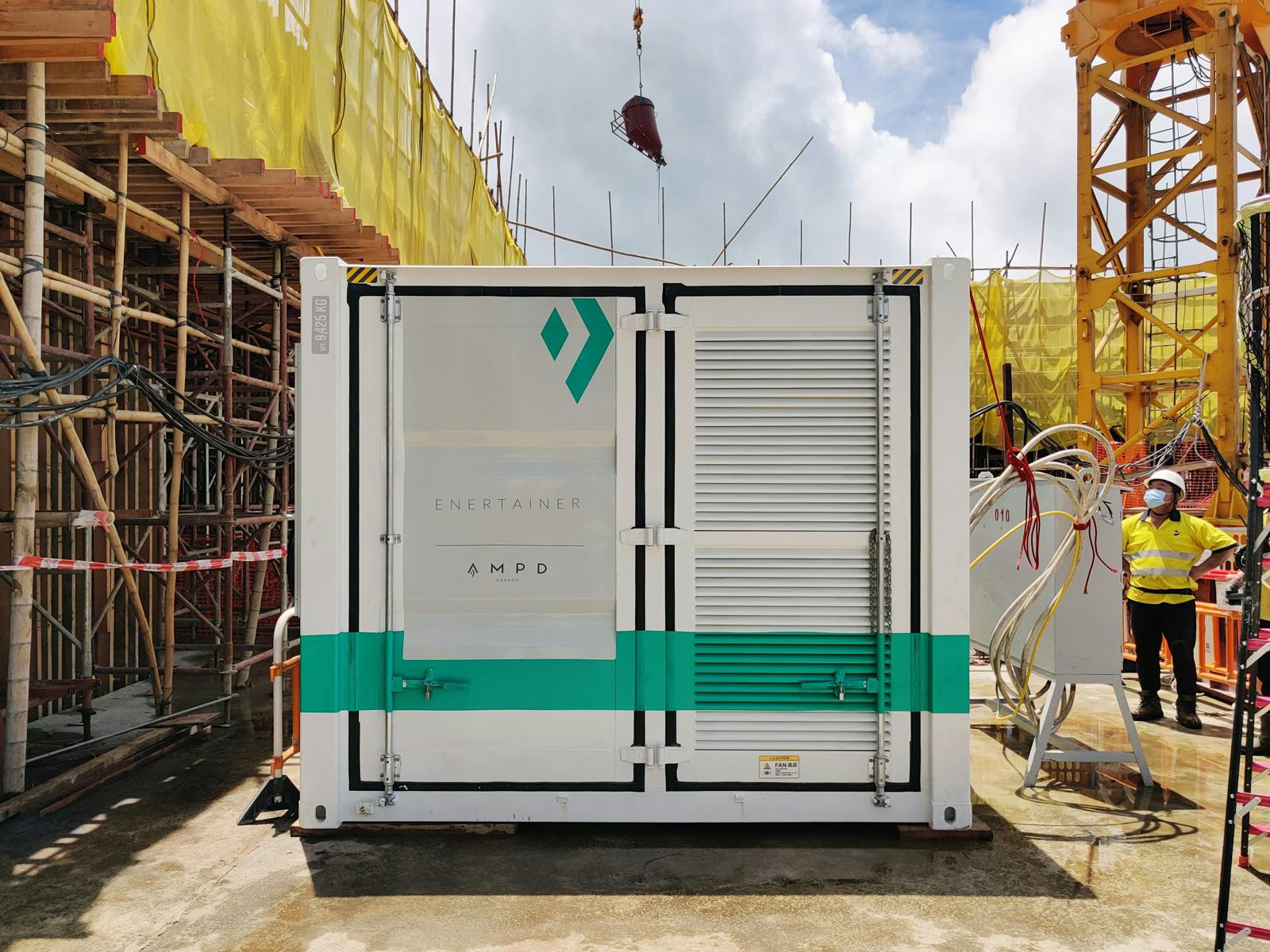 Q. How has being in Hong Kong helped you succeed?
Hong Kong has all the ingredients we needed as a startup – capital, legal infrastructure, access to the GBA and China, plus a melting pot of talent. But the biggest thing for Ampd is we found our purpose and product-market fit and what made the difference here is the vibrant and robust construction industry in Hong Kong. This enabled us to engage deeply with key stakeholders, namely the construction companies–both international and local–and developers. We identified all the pain points and possibilities; this was critical to putting meat on the bones on the Enertainer–our flagship product today–and eventually, the whole business. In doing so, it accelerated our learning as the energy storage sector today is still in its infancy, so there are few genuine experts to show you how this is done; we had to figure things out ourselves. That's real innovation, you'll often fly blind and have to feel your way around.
"The other great thing about Hong Kong – same in the past and still applies today – is that people here are not afraid to be different."
Q. Outline the role and benefit of the GBA to your business?
Much of what we've learned and the expertise we've acquired is from vendors which Hong Kong provides incredible and easy access to via the huge industrial machinery of the GBA. The GBA is a huge resource for us and for companies looking to both start and scale their engineering capability, and is unique in that supply chain in the GBA is a comparatively "open" one, compared to supply chains in other parts of the world which tend to be far more vertically integrated and less accessible to startup companies.
Q. What have you gained from being part of the Science Park ecosystem?
Science Park offers a great safe place for startups to take risks. The community here is very open to ideas, innovation and to trying things. This community is huge today versus the early days, it's evident the ecosystem is now truly established and has reached critical mass.
Scale is paramount for any innovation and technology ecosystem. An ecosystem is at heart a collection of individuals, ideas, companies trying different things and more you have, the more likely you'll encounter unplanned collaboration and great things will happen. We started out in 2015 as part of the Incu-Tech incubation program and graduated in 2018, but we've also leveraged the full HKSTP ecosystem by expanding our operation to their Tseung Kwan O Industrial Estate too where the Enertainers are built – these things are huge at nine tonnes each!
"Hong Kong has evolved from being the gateway from the world into China, to the gateway from China to the world."
Q. In summary why should entrepreneurs come to Hong Kong today?
Hong Kong has one attribute which is critical to success – resilience. I am convinced at least 50% of entrepreneurs succeed simply because they've kept going. It's a big part of how we've gotten to where we are today, in that we have stuck it out since 2014. I'm a big believer that luck has a surface area, so the more you do to increase this surface area – including sticking around – the more opportunities you'll find, the more you will try until something succeeds.
The other great thing about Hong Kong – same in the past and still applies today – is that people here are not afraid to be different. Plus now with the potential of the GBA, Hong Kong has transitioned from being gateway to China into a gateway from China where you can access the incredible industrial machinery of the GBA region.
Q: Got any tips for our aspiring entrepreneurs and innovation pioneers?
First is don't be afraid to be different, no one achieved anything meaningful by being the same as everyone else.
Second is don't be afraid to fail. Success is a lousy teacher, as Bill Gates says.
And third, don't be afraid of or shy from those who tell you that you are wrong. Find a strong, experienced mentor who has done this and succeeded in building a business before.
These stories, contributed by Hong Kong Science Park, are examples of HK10X in action, showcasing Hong Kong's world-leading technology innovation and the city's unique pioneering spirit and scale-up mentality.